Boilermakers & Martinis
Road Less Traveled Productions,
2007
Director::
Phil Knoerzer
Play:
Emanuel Fried
Starring:
Emanuel Fried
The Most Dangerous Man In Buffalo
by Michael D. Klemm
Reprinted from abOUT, April, 2009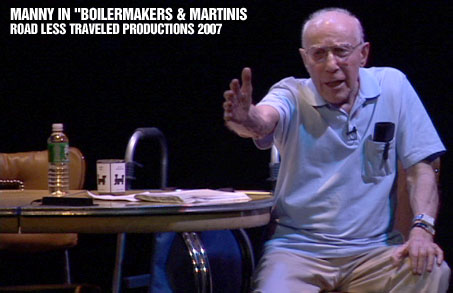 The local press once dubbed actor/playwright Emanuel (Manny) Fried "the most dangerous man in Buffalo." His notoriety as a Union organizer during the 1950s is the stuff of legend in Western New York, and Manny's Boilermakers and Martinis is a one-man show that recalls his turbulent life. His performance of Boilermakers on the stage of Road Less Traveled Productions, directed by Phil Knoerzer, is now a filmed record and available on DVD.
At 95 years old, Manny is the most respected elder statesman of the Buffalo theatre community. As a young actor in the 1930s, he gravitated towards the Left and trained under Strasburg and Kazan at the Group Theatre. After the war, he worked at Curtiss Aircraft and organized the Union. Manny became a target of the FBI and, when he refused to throw in the towel during a long strike, they tried to break him by harassing his family and friends. Labeled as a "commie agitator," he was fired for his Union activity and was later forced out of the Union too after being called before the House Un-American Activities Committee in 1954. His refusal to cooperate with HUAC, and subsequent blacklisting, is re-told in his novel, The Un-American.
Boilermakers and Martinis reflects on the central paradox of Manny's life. Manny's blue-collar heart was with the workers, but he also married into one of the wealthiest families in Buffalo. He lived in two different worlds - the factory and the fairy tale setting of his in-laws' exclusive Park Lane Restaurant - and they were always in collision. His staged memoir is named after the two drinks that symbolize the separate tracks that his life took. It is both an attack on the FBI's vendetta against him and a love letter to his late wife.
This is a compelling tale about a stormy marriage across class lines, and hearing it directly from the man himself makes for a cathartic theatrical experience. He has been asked, Manny tells us, if he would do it all over again the same way. In trying to answer that question, he realizes the most important person in the play is not him; it's his wife and the pain that she endured because of his actions. Based on Manny's own words, Rhoda Lurie Fried was a remarkable woman who stood by her man when she could have salvaged the privileged life that she was accustomed to by heeding her family, and friends, and divorcing him.
Manny is a forceful and charismatic storyteller. His monologue is, at times, very angry and one can't help being swept up by the man's passion. He is obviously proud of his accomplishments yet his speech continually returns to the indignities suffered by his wife and renders bittersweet all the victories in his boilermaker world. You can hear the pain in his voice; this is an old man who is perhaps finally coming to grips with his life's choices and he is exorcising his demons in a soul baring confession.
Countless people had their lives destroyed during the Red-baiting of the 1950s and Manny's story is an important oral history of this dark era in American history. The disc can be ordered by logging on to www.roadlesstraveledproductions.org
Click here for my 1998 interview with Manny Fried