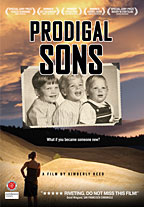 Prodigal Sons
First Run Features,
2008
Director:
Kimberly Reed
Starring:
Kimberly Reed
Carol McKerrow, Marc McKerrow, Claire Jones, Todd Loren McKerrow, Jasmine Fuentes, Oja Kodar, Sasha Welles, Jakov Sedlar
Archive footage:
Orson Welles, Rita Hayworth
Unrated, 88 minutes
Citizen Kim
by Michael D. Klemm
A shorter version also appeared on abOUTmag.com, Sept., 2010
Posted online August, 2010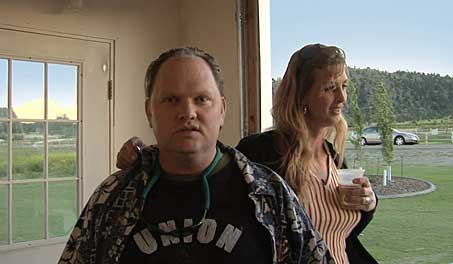 Expecting one thing when viewing a film, and then finding something completely different, is one of the pleasures of reviewing. Transgender transitions are a common topic in queer documentaries. The subject is a compelling one but it is also becoming very familiar. Prodigal Sons (2008), a personal portrait by filmmaker Kimberly Reed, mines similar territory and then ventures into uncharted waters.
Kim grew up during the 1970s in Helena, a rural town in Montana. She is returning home for a high school reunion. To say that much has changed in the interim would be an understatement. When Kim attended her alma mater, she was a he. His name was Paul McKerrow and he was the quarterback of the football team. All the girls had a crush on him when he was a boy. Kim arrives in Helena with her lover, Claire (Paul became Kim but Kim still likes women) and doesn't know what to expect. "20 years ago they had voted me most likely to succeed," Kim tells the camera, "I wonder if now they will laugh at me." Though the town looks rather conservative, she has nothing to worry about. "We're all old and fat and bald now, and she's a girl," laughs one of her old drinking buddies.
The hometown already knows about her transition. Kim's mother, when widowed, told friends that her husband had died but Kim "had been reborn." All seems well for most of the first half hour but the film's title is plural and I haven't introduced the other prodigal son yet. Marc is the oldest of the three McKerrow brothers. (The youngest, Todd, is gay and lives in San Diego.) Marc suffered a bad truck accident as a young man, and later developed seizures and short term memory loss. Several surgeries later, part of his brain was removed. He is not all there anymore and prone to extreme mood swings. Kim has been estranged from Marc for over a decade. While Marc was dealing with his medical issues, Paul was becoming Kim. Kim is completely comfortable with herself but she needs to reconnect with Marc - who is living in the past, unable to reconcile the past and present versions of his sibling.
It becomes clear that the central conflict is going to be between Kim and Marc. It is worth noting that Marc's objections to Kim's choices don't stem from any religious or moral grandstanding (at least not initially). He is instead bothered that his sister would deny her past as a boy because it is still a part of her whether she likes it or not. He is motivated by his own identity issues. Marc was adopted and he is obsessed with finding out who his birth parents are. The search leads to a conclusion that proves the old adage that truth is stranger than fiction. Marc discovers that his grandparents were Orson Welles and Rita Hayworth! The cinema genius and the screen goddess. Marc's birth mother has died but Kim, with cameras in tow, follows her brother when he is invited to Croatia by Oja Kodar. She was the consort to Mr. Welles during the final two decades of the filmmaker's life and she welcomes him as long lost kin. Mark revels in his newfound identity and gets to wear Orson Welles' tuxedo. (Marc isn't exactly thin, but the clothes are still huge on him.) Kim expresses a bit of envy - she's the filmmaker yet he is the grandson of the man who gave the world Citizen Kane.
Much of this has been charming but then the film massively shifts gears again. Hell, it shifts tectonic plates! Marc's condition deteriorates and the last third becomes a harrowing study in mental illness. I suppose I should have been forewarned; he has a pretty good meltdown already during the first half hour and he looked creepy from the beginning. Even so, I didn't expect to see him turn almost homicidal in the last act. As he descends into madness, he begins to invoke the Bible and his verbal attacks escalate into physical violence against both of his siblings.
This is quite a departure from most documentaries that explore gender transitions. We see nothing of Kim's operations and this is usually the main event in trans cinema. Kim is actually overshadowed by her brother's mental illness and I'm sure this will lend the film more mainstream appeal. Sexuality is huge, but it isn't the only thing that defines a person's identity and this film examines many variations on this theme. Prodigal Sons can almost be enjoyed as three separate movies. A film, ideally, should be universal but the three acts could appeal to vastly different audiences. Transgender people will be fascinated by Kim's story. Cinephiles will embrace the Orson Welles interlude and everyone will be shocked by the painful drama that swallows up the rest.
Documentaries often take on a life of their own. The director's original intention was, no doubt, to record both the high school reunion and her brother's surprise connection to Welles. Marc's third act meltdown almost functions like the dramatic conclusion of a narrative film. Had this been fiction, I would probably say that there is too much going on but I haven't been made this uncomfortable by so much raw emotion in a documentary since I first saw Crumb back in the early 90s. You couldn't make this stuff up.
Before the emphasis shifts to Marc, Prodigal Sons really gets into the mind of a tranny - even though the sex change part of her journey is long over with. Kim looks great and, as mentioned earlier, she is completely comfortable as a woman. She is also ambivalent about her past, a common reaction that many must have after undergoing sexual reassignment surgery. She isn't rejecting her past, she just wants to move on and her brother won't let her. It's obvious why Marc wants to hold onto their shared past but it's also easy to see why Kim is uncomfortable when he shows strangers pictures of her as a boy. Her partner remarks that it took years for Kim to show her old photos. After her transition, Kim just wanted to pass and to fit in, and told nothing of her past to colleagues in New York City. She adds that most of her transsexual friends actually burned their old photographs. Revealing observations like these set this film apart and add considerable interest.
As a documentary, Prodigal Sins excels on both thematic and technical levels. Reed weaves a terrific tapestry of both new and archival footage. Even Mr. and Mrs. Welles float in and out. The use of old home movies is inspired. We see Kim playing football in high school and the contrast is amazing. She was featured in the senior yearbook with the slogan, "Paul McKerrow - the real man!" Pictures tell a thousand words. Film buffs will savor seeing a ravishing Rita Hayworth deliver a sultry torch song, in sensual close-up, from Welles' 1947 The Lady From Shanghai. I noticed immediately that Prodigal Sons' title card uses the same white typeface as Citizen Kane's opening title.
I've watched more than a few forgettable queer films over the years but this isn't one of them. I will never forget this one. In closing, Prodigal Sons is a gripping documentary with crossover appeal. The DVD also includes follow-up interviews and a Q&A from the festival circuit.