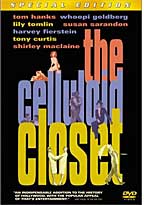 The Celluloid Closet
HBO Video, 1995
Director/Screenplay:
Rob Epstein,
Jeffrey Friedman
Narration
written by :
Armistead Maupin

from the book by
Vito Russo
Starring:
Lily Tomlin, Narrator,
Armistead Maupin, Whoopi Goldberg, Rita Mae Brown, Quentin Crisp, Harvey Fierstein, Arthur Laurents, Susie Bright, Gore Vidal, Barry Sandler, Mart Crowley, Jay Presson Allen, Ron Nyswaner, Paul Rudnick, John Schlesinger, Shirley MacLaine, Farley Granger, Tom Hanks, Susan Sarandon
Unrated, 102 minutes
What We Learned At The Movies
by Michael D. Klemm
Reprinted from Outcome, October, 2001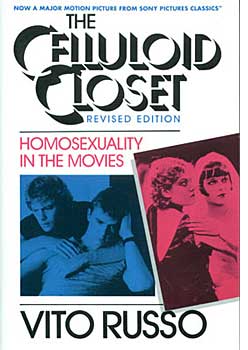 Extensive research goes into the making of a documentary, even if much of it never makes the final cut. It is not uncommon for hours of interview footage to be discarded. A special edition DVD, therefore, is the ideal format for viewing a documentary when its audience hungers for more information. The Celluloid Closet has just made its debut on DVD and its extras are worth checking out even if you have already seen, or own, the film on videotape.
Not all of my readers own a DVD player, so let's start with the film itself before discussing the extras. The Celluloid Closet (1995) is a very entertaining documentary that chronicles the often tainted depiction of gays and lesbians on the silver screen. It is based on Vito Russo's groundbreaking 1981 study, which he updated in 1986. Unfortunately he did not live to write a third edition to reflect queer cinema's current accomplishments as he died from AIDS complications in 1990. The filmmakers, Rob Epstein and Jeffrey Friedman, are also responsible for The Times Of Harvey Milk, Common Threads: Stories From The Quilt, and the recent Paragraph 172.
The film version roughly follows Russo's structure and themes. Utilizing film clips and interviews, tied together by Lily Tomlin's narration, The Celluloid Closet takes the viewer through various stages of Hollywood history from the screaming nellies of 1930s musicals to the more finely drawn characters of today. It describes how the infamous Hays Code eliminated all mention of homosexuality from the silver screen and how several creative directors managed to fool the censors. Relaxing the code in the 1950s brought out characters like the predatory lesbian. Finally the 60s begat the self loathing homosexual who kills himself, later followed by gay pyschopathic killers and ludicrous stereotypes that were always the butt of insensitive jokes.
Younger filmmgoers today have the opportunity to see films like All Over The Guy at the downtown cinema and do not remember a time when we were invisible on the screen. There were no positive gay images on the silver screen when I was growing up. Author Russo, and many of those interviewed for The Celluloid Closet, have noted how we were "starving" for positive images of ourselves in the movies. When homosexuality was depicted, it was something to laugh at, or to pity. The great Hollywood dream factory taught straights what to think about gays, and it taught gay people to hate themselves.
But the filmmakers do more than just assemble film clips. Most of the accompanying commentaries are both biting and insightful. Many voices are heard as such gay luminaries as Quentin Crisp, Harvey Fierstein, Rita Mae Brown, Armistand Maupin and Gore Vidal (as well as a few token straights like Tony Curtis, Whoopi Goldberg, Shirley MacLaine and Tom Hanks) add their own perspectives, both historical and anecdotal. Barry Sandler, the writer of 1982's Making Love describes how negatively audiences reacted to Michael Ontkean and Harry Hamlin's kiss. Screenwriter Arthur Laurents discusses how Hitchcock made a film about two obviously gay murderers, 1948's Rope, without identifying the killers' sexuality. Among my favorite moments are writer Susie Bright talking about first seeing Marlene Dietrich, dashing in a tuxedo, kiss another woman in 1930's Morocco one night on a late show when she was a teenager, and writing an alternate scenario. She was also stunned when Mrs. Danvers, the evil housekeeper in Hitchcock's 1940 Rebecca lovingly showed the new Mrs. DeWinter her predecessor's lingerie. Susan Sarandon makes the definite statement on being straight and playing gay. Commenting on how the director of 1983's The Hunger wanted her character to be drunk for the seduction scene, Sarandon replied "I don't have to get drunk to sleep with Catherine Deneuve!"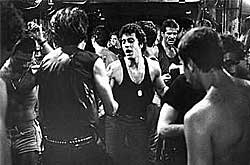 The humor vanishes while films such as 1980's Cruising take center stage. Most disturbing was seeing James Caan repeatedly shoot a transvestite killer in 1974's Freebie and the Bean while the commentator notes that audiences didn't just cheer the death of the villian... they cheered the death of the fag. The groundbreaking Making Love is compared with the same year's Personal Best as filmgoers prefer to see two women in bed and not two men. A montage of scenes from independent gay films such as 1986's Parting Glances and 1990's Longtime Companion rounds out the documentary on an upbeat note, while brief snippets from 1991's The Silence of the Lambs and 1992's Basic Instinct make it clear that Hollywood still likes to add "sexual deviancy" to the resumes of killers in big budget films.
The Celluloid Closet's 101 minute running time moves briskly and smoothly, and is a wonderful and perceptive introduction to this subject. But, for those who are serious students of the genre, it is too brief and many important films are missing. European cinema is ignored, and many important figures omitted. And that's where the DVD comes into play. The new DVD is a must for anyone who is interested in queer cinema history. First, and foremost, there is an hour of un-used interviews that didn't make the final cut. Among them are commentaries from filmmakers Kenneth Anger discussing his films, 1947's Fireworks and 1963's Scorpio Rising, and out British film critic Robin Wood commenting on the gay villians in several Alfred Hitchcock films. Also included is Gus Van Sant's revelation that River Phoenix conceived the campfire scene from My Own Private Idaho.
There is also a full length commentary from the directors and Lily Tomlin. The commentary is very illuminating and makes clear why certain films, like 1969's Midnight Cowboy for example, were removed for time and pacing concerns. But it is also notable for the way in which they all talk freely and openly about their lives. Lily Tomlin has been criticized for years for having never publicly come out but it is obvious from listening to her on the disc that she is hiding nothing about her personal life with Jane Wagner.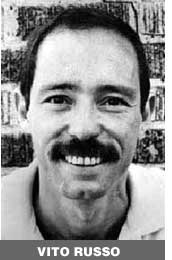 Also worth noting is that the commentators' friendships with Vito Russo extended back to the 1970s and the portrait of the late author is both humorous and touching. The disc, in fact, has changed my entire perception of Mr. Russo. I have owned the second edition of his superb book ever since 1987 and have always assumed, from his writing, that he was a very angry man. Yes, he was also one of the founders of ACT-UP and he had no patience for gay films that copped out, but the man that emerges on this disc (through a short filmed interview and a fascinating full-length lecture that occupies a second separate audio track) is an articulate and very funny man who laid the groundwork for all serious studies of queer cinema that would follow. Russo's spoken commentaries, additionally, blow away the narration that Armistead Maupin wrote for the film. This is an amazing disc and highly reccommended.
Reviewer's Note 2007: I've become aware of a lot of Vito Russo bashing, especially online, from more and more gay critics. I am presuming that these are mostly younger writers who, I think, need a reminder again that queer films were not as visible then as they are now.
Vito Russo died from AIDS complications in 1990 so there will never be a third or fourth edition of his 1981 The Celluloid Closet, revised and updated in 1986. He did not live to see how new queer cinema exploded a couple years later, after his death. Okay, the book is sometimes dated. But then, by the same token, so are Pauline Kael's collections of film criticism from the 60s and so is the classic French film magazine from the 50s, Cahiers Du Cinema - whose writers included Francois Truffaut and Jean Luc Godard.
The Celluloid Closet was the first of its kind. When I first purchased it in 1987, there were no other books devoted to this subject. The amount of research (not to mention the number of films he had to watch) that went into The Celluloid Closet is staggering and it laid the groundwork for all queer film criticism to come. Okay, he does protest too much regarding some films but you have to look at them in their proper context. For example, Cruising came out when there were no positive depictions of gays and lesbians onscreen. Russo was part of the protests during the filming. Were they over-reacting as many contemporary writers accuse? No, they weren't - even if it seems that way now. Gay bashings went up after Cruising played. My partner counseled gays at the college where he taught, and he got panicky calls from many young men asking if that is going to be what their lives will be.
It would have been different if Will and Grace had been on TV for years before a film like Cruising hit the screens, but it wasn't like that in the 70s. We had Three's Company instead. Only fags existed onscreen. Hence the anger throughout The Celluloid Closet. If those of us from the "Old Guard" were always asking if a film was good for gays it was because the majority of the movies out there weren't good for gays. We were hairdressers, we were psycho killers. It was a different time. And the book reflects that time.
Though Russo does make a few mistakes, it is a valuable reference book. He can also be faulted for shortchanging a lot of European cinema - Fassbinder's films, for example, are never even mentioned in the text. Despite these faults, it is still, to my mind, the definitive book on the subject... at least up to 1896. It's up to new writers to write about the rest. I've tried, myself, to write about as many as I can in Outcome and they're all here on this site. Russo's book is a good gateway to our cinematic history and it helps, in order to ground new writings, to know our past and what came before. Then you are aware of what traditions a new work upholds and what new ground it may be breaking. If you don't like Russo's politics, if it's too 1980s-ACT UP for you, then just read about the movies and learn where we have come from. After you read about films like The Detective, Scarecrow, Reflections In A Golden Eye and The Fox, you might start to understand his "whining."
More on Rob Epstein and Jeffrey Friedman:
Howl
See also
Vito
Fabulous: The Story of Queer Cinema
This Film Is Not Yet Rated
Lavender Limelight
Click here for more on Vito Russo
gmax.co.za