Told as a non-linear narrative, most of these plot elements are delivered by Hedwig to his unresponsive audience within the first minutes, and then, through a series of monologues and flashbacks, the full tale unfolds. Along the way, Hedwig ruminates on the origins and nature of love while, at the same time, delivering the most kick-ass rock and roll movie in recent history.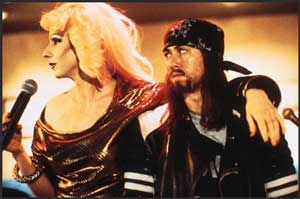 Rock and roll has always been about rebellion and defying the norm, and I suppose it's no coincidence that the cinema's two biggest genberbending movies use rock and roll rather than Broadway showtunes as its framework. Hedwig is a transgender triumph. Hedwig is a man who became a woman but is actually neither. The role is played by a man while her husband Yitzhak, who loves to wear Hedwig's wigs in private, is played by a woman. The male rock band wears glam make-up and costumes inspired by Ziggy Stardust.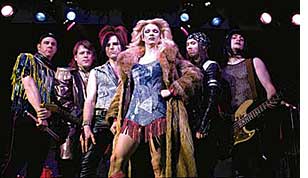 Hedwig's tale is, at the same time, both funny and tragic. Seeing Hedwig perform behind a salad bar to diners holding hands over their ears is a hoot. Ditto for a hilarious take-off on the Lilith Fair women's music festival where Hedwig performs in the rain on a tiny stage down by the porta-johns to one lone listener. The script contains one delicious deadpan joke after another... such as Hedwig remembering how "they threw tomatoes. After the show I made a nice salad." One of my favorite bits was Yitzahk bailing out to join the Polynesian/Guam national tour of Rent.
Despite the film's comedic tone, the viewer feels Hedwig's pain as she longs to meet her (his?) "other half." She is unsure what that other half's sex should be, and is confused about her place in the cosmos. The central theme, set down in the very moving song "The Origin of Love," derives from a discourse found in Plato's Symposium in which there were once three sexes. Told in the style of a bedtime story, Hedwig sings about creatures with two sets of arms and legs and a double sided head. There was a man-man, woman-woman and a woman-man. When they waged war on the Gods, Zeus split them in two and, since then, each has always tried to find his or her other half so that they might become one again.
And this is the theme that runs throughout this unique piece of rock theatre. Hedwig is a walking metaphor for this myth and embodies the tragedy of never finding love. Instead of being a simple exercise in outrageous camp humor, Hedwig turns into something very special. Much thought went into composing Hedwig. The doubling and splitting themes are found everywhere... right down to the wall that divided Berlin in two.
But Hedwig is anything but a dry philosophy lesson. The main character is so unique, and the tale so outrageous, that is impossible not to be seduced by its charms. While it may not have the budget of Moulin Rouge, we are treated to terrific music, animated sequences, and even a sing-a-long where you follow the bouncing wig.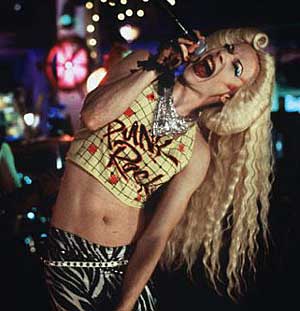 Hedwig was originally a huge cult hit off-Broadway and the resulting film is a marvel. Its colorful history, fully documented on the DVD, is fascinating. Hedwig is the brainchild of actor John Cameron Mitchell and musician Stephen Trask. The Hedwig character made its unlikely debut in 1994 at Squeeze Box, a New York punk club frequented by gays and straights alike. Squeeze Box featured a night when drag queens forgot about Barbra and Liza and sang punk rock with Trask's homo-rock band, Cheater. Together with Trask, Mitchell developed Hedwig, a drag queen who stripped off her gowns at the song's climax, and then created a history for her as well. Their act grew into a play which premiered on Valentine's Day in 1998 at the Jane Street Theatre, located in the basement ballroom of the Hotel Riverview, a flophouse populated by prostitutes in the meat packing district. And from such humble beginnings, a star was born.
The music by Stephen Trask isn't mere background filler. Much of Hedwig's tale is told through the lyrics which are both biting and poignant. Much of the music evokes glam-era Bowie, with a touch of Iggy Pop and perhaps The Ramones. Because of this, Hedwig has achieved a true rarity.... it is one of the few genuine rock and roll movies that get it right.
Much of this can be attributed to the power of Mitchell's performance as Hedwig, which he stunningly re-creates in the film. Mitchell is Hedwig. He embodies the character, making her vibrant and alive. Looking like a hybrid of Marlene Dietrich, David Bowie and a Fassbinder heroine, Mitchell's Hedwig commands the stage at the top of his form. Like a hermaphroditic chameleon, he is at home belting out a torch song and smashing guitars.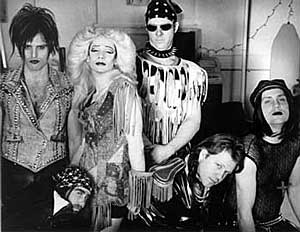 Mitchell is surrounded by a top-notch cast that includes Second City Television alumnus Andrea Martin (she seems to be making a career lately out of playing supporting roles in gay indie films) as Hedwig's ineffectual but determined manager. As always, she is a delight. The DVD of Hedwig is what this medium was made for. Forget the 2-disc set of The Scorpion King with four hours of how they did the special effects. The Hedwig DVD features a commentary by Mitchell and Trask, deleted scenes, videos with optional subtitles of the songs and a terrific 85 minute documentary that details the entire history of Hedwig from stage to screen. Fans will love this because there is even video footage of Hedwig's first appearance at Squeeze Box! So, would you rather watch a remake of a bad TV show or treat yourself to something completely different? This one, especially the DVD, should be in every queer collection.
[Reviewer's note, 2007: Michael Pitt (Tommy Gnosis) has since appeared in many interesting films including Larry Clark's Bully, Bernardo Bertolucci's The Dreamers, and Gus Van Zant's Last Days where he channeled Nirvana's Kurt Cobain.
More On John Cameron Mitchell
Shortbus
More On Andrea Martin
All Over The Guy